Late Gothic, it has three naves (the highest power station), a transept and head, highlighting its High Altar, a remarkable work of Churrigueresque. It is presided over by an image of the Baptist and another of the Immaculate Conception. Pillars and capitals adorn profusely with varied motifs, all being protected by an extraordinary wrought fence.

From the cruise hangs an imposing lamp in bronze, unique in Spain.

The closed choir kept similar grid is situated in the middle of the central nave, blinding the panoramic view of its structure. However, it is unique for the beauty of its sizes, with 43 chairs in the Alto Coro and 36 in the Bajo. It is one of the best in Spain and is crowned by an extraordinary organ.

The side chapels stand out for their beautiful altarpieces, especially that of Our Lady of Antigua and that of Baptism. The sacristy has a magnificent collection of Flemish tapestries.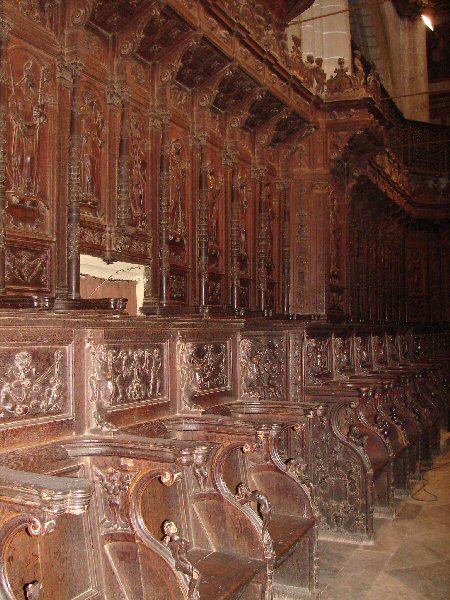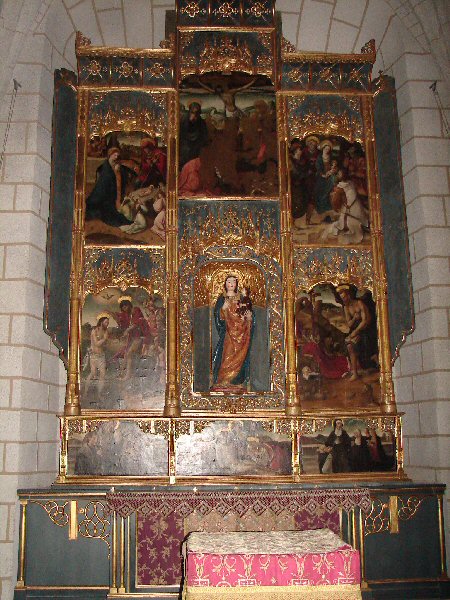 The tower adorned with plateresque windows, has a square base measuring 14 meters on the side and 41 meters high, crowned by a large bell tower and topped by spectacular battlements.

The cloister was built between 1509 and 1520, replacing a smaller one. It is modest, but coquettish and luminous. Inside, a simple garden guarded by small orange trees and in its center, a well built on a large cistern.

The Chapel of the Christ, has a magnificent Baroque altarpiece presided over by a beautiful crucified. In one of its angles, a splendid marble mausoleum, houses the remains of General Menacho, mortally wounded in the Badajoz site.

The Diocesan Museum keeps excellent works of art, among which are several paintings by Luis de Morales, the Divine. It also has the best collection in Spain of Filipino ivories, miniatures of the 15th century, and a beautiful alabaster relief of Settignano from the 15th century.