Late Gothic, has three ships (Central highest), and cruise header, emphasizing its Altar Mayor remarkable work of churrigueresco. What chairing an image of Bautista and another of the Immaculate.
Pillars and capitals so profusely decorated with varied reasons, being all protected by a special gate forged.
Cruise hangs from an imposing bronze lamp, unique in Spain.
The choir closed gate guarded similar falls in the middle of the nave, cegando the overview of its structure. However, it is only for the beauty of its carvings, with 43 seats in the High Choir and 36 in the Lower. It is one of best in Spain and is crowned by a special body.
The side chapels are noted for their beautiful altarpieces especially that of Nuestra Señora de la Antigua and baptism. The vestry has a magnificent collection of Flemish tapestries.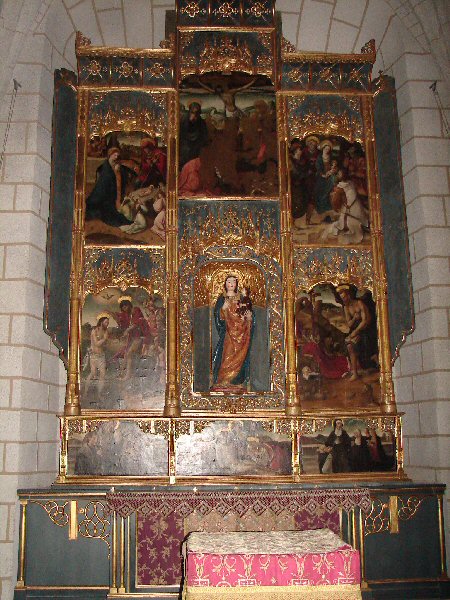 The tower adorned windows platerescas, has a square base of 14 meters and 41 high side, being crowned by a large bell and topped by spectacular battlements.
The faculty was built between the years 1509 to 1520, replacing another smaller. It traces modest but charming and bright. The interior of a simple garden guarded by small orange and their center, a well constructed on a large aljibe.
The chapel of Christ, has a magnificent baroque altarpiece presided over by a beautiful crucified. In one of the corners, a splendid marble mausoleum, welcomes the remains of General Menacho, mortally wounded in the siege of Badajoz.
The Diocesan Museum keeps exquisite works of art, among which several paintings by Luis de Morales, the Divine. It also has the best collection of ivories Spain Filipinos, cantorales miniados fifteenth century, and a nice relief in alabaster of Settignano fifteenth century.